Mini Excavator Rental - Digs up to 9'9" deep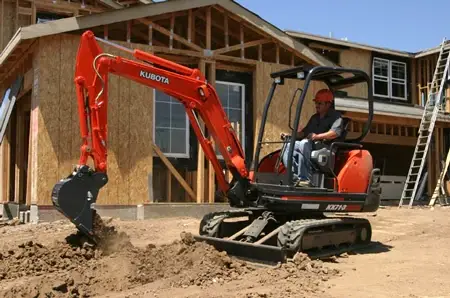 Our Mini Excavator Rental will get the job done!
We have the Newest Rental Inventory in the area
Easy to Use – Powerful – Versatile
Our Excavators rentals are great for digging out driveways, curbs or roads, installing water and sewer lines or electrical conduit, landscaping work, interior work in office or retail space and much more. Our excavator rentals offer maneuverability, operational performance, operator comfort and reliability. 
Our Kubota KX71-3 Excavator offer a digging depth of 9′ 9″ and your choice of a 12″ or 18″ bucket. Our excavator rental includes a thumb to make grabbing rocks or other items easier.
The KX71's powerful and responsive front working group can handle all your digging, lifting, and loading jobs. Its large bucket capacity, long reach, and formidable digging depth meet or exceed all job requirements on the construction site. The open cab allows great operator visibility
Key Features:
Low sound level
Unique compact size
Comfortable operator area
Improved versatility
Superior weight and stability
Strong traction force
A spacious operator station designed for greater comfort, with a fully flat floor for more legroom
Digital panel with easy access, simple settings and easy-to-read indicators and alerts
Easy cab entry and exit
Wrist rest
Cup holder
Changeable Control Pattern  
Convenient Two-pattern Selection System allows you to change between ISO (Deere) and SAE (CAT) operating patterns with a quick flip of a switch – without tools!
SPECIFICATIONS
    Max digging depth 9'9″
    Max dumping height 10'5″
    Max digging height  15'5″
    Max vertical digging depth 6'5″
    Max digging radius @ ground 16′
    Min turning radius 6'4″
    Min tail turn radius 4′
    Engine Model V1505-BH
    Horsepower (gross) 24.4
    Displacement (cu. in.) 91.4
    Overall Length 14ft 11in
    Overall Height 8ft
    Overall Width 4ft 11in
    Min. Ground Clearance 11in
    Crawler Length 6ft 6in
    Pump Capacity (GPM) 8.32
    Auxiliary Hydraulics Flow Rate (GPM) 13.1
    Bucket Breakout Force (lbs.) 6350
    Arm Breakout Force (lbs.) 3285
    Traveling Speed: High (mph) 1.8
    Traveling Speed: Low (mph) 2.9
    Ground Contact Pressure (psi) 3.9
    Blade Width 4ft 11in
    Blade Height 12in
    Hydraulic Oil System 9 gal
    Fuel Reservoir 11.9 gal
    Operating Weight lbs. 6305
PLEASE NOTE:
Under Massachusetts Law a Hoisting Engineers License is required to operate this machine.
If you do not have one, we can issue you a Temporary Hoisting Permit. 
To get a Temporary Hoisting Permit please go to https://www.atleisurelicense.com/temp_permits and enter our Rental Facility ID Number which is 0203837
We are located in Millis, MA and offer mini excavator rental in Millis, Medway, Medfield, Franklin, Norfolk, Holliston Hopkinton, Sherborn and the surrounding area