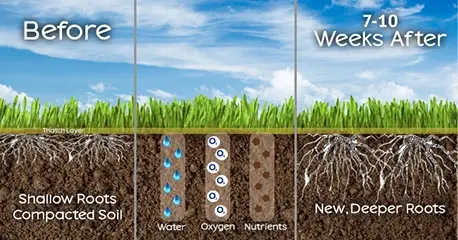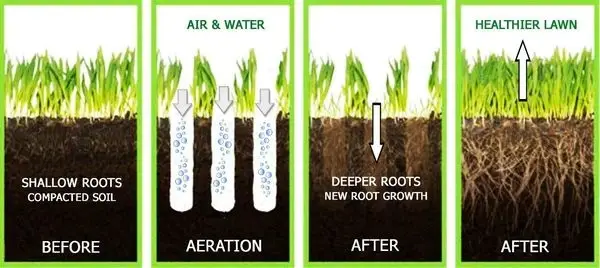 Lawn Aerator Rental and Lawn Aeration
Aeration of your lawn or yard is one of the most important and beneficial things you can do. Aeration is the process of mechanically removing cores of turf to improve the flow of air, water and nutrients in dense, compacted soil.
Soil compaction, caused by lawn traffic such as walking and moving, is one of the greatest causes of turf deterioration. When soil is compacted, dirt particles are forced together, reducing the area where roots can grow. Aeration relieves soil compaction by improving the exchange of water and critical nutrients to grass roots.
When should I aerate?
You should aerate at least once per year and many people choose to aerate twice a year
For optimal effectiveness aeration should be done while the lawn is actively growing. in our area the best times to aerate are Spring (between late April and June) and Fall (between September and November)
Achieving the best results from aeration
 Water area to be aerated the night before. This will help to soften the soil allowing for maximum core penetration.
Before beginning, map out any obstructions such as sprinkler heads or drains.
Cover every inch of the lawn and go over high traffic areas more than once.

After aerating, water the lawn and apply fertilizer. This will promote growth and allow grass to compete with weeds as they grow.

Steves Rental is the best place to rent a lawn aerator or a grass aerator rental!
Walk Behind Lawn Core Aerator Rental
Our aerator eliminates the conventional and cumbersome center wheel and center drum designs found on other units. The outboard drive wheels also eliminate center wheel slip and abuse from ramp loading with the tines engaged.
The aerator also eliminates bulky steel weights, in favor of a simple to use water weight positioned directly over the tines for better aeration depth (full tank = 50 lbs.).
Click Here for Walk Behind Lawn Core Aerator Rental prices, specifications and availability