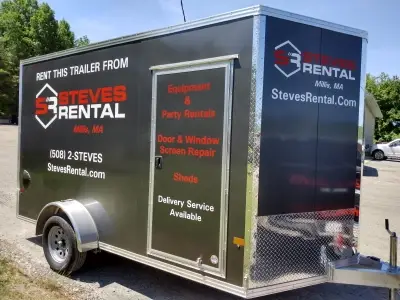 Our Motorcycle Trailer Rental is THE way to haul your bikes
 Whether you're going to Laconia, Sturgis, Daytona, Tail of the Dragon, doing an Iron Butt Challenge or riding anywhere else, this is the trailer for you and your bikes!
Unlike U-haul, our fully enclosed motorcycle trailer rental offers the most comfort and protection for your bikes and gear. It will help keep them safe and protected from the elements and thieves. The side door has a built-in lock and you can put padlocks on both sides of the rear gate
Our motorcycle trailer rental for 2 fully dressed bikes, the front wheel chocks are staggered to allow.
This trailer has electric brakes so you need an RV Style 7-Blade plug and a working brake controller
We're easy to get to – 15 minutes off of Route 495 (exit 18 or 19) or Route 95 (exit 31B), straight down Route 109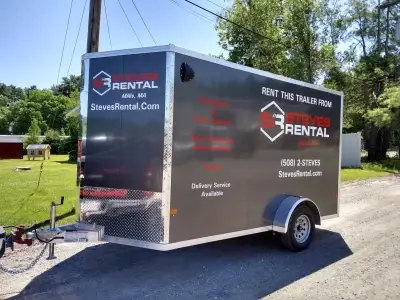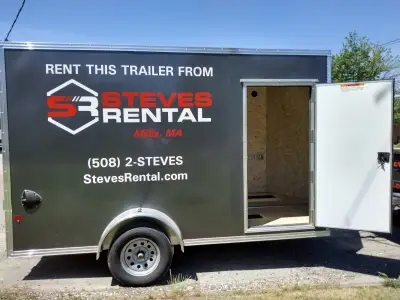 Features
Holds two bikes
Ramp gate
Built-in wheel chocks for front wheels
E track in the floor to allow proper securing of your bikes
Side door for easy access
Interior dimensions
81″ wide
141″ long plus the V nose
82″ floor to bottom of interior beam
Exterior dimensions
104″ wide
180″ long (to end of hitch)
100″ High
We are located in Millis, MA and offer enclosed motorcycle trailer rental.