Our 19′ Electric Scissor Lift Rental will help make your next project faster, safer and easier while saving you labor!
Whether you need it for a short term job or a long term project, we have the scissor lift rental you need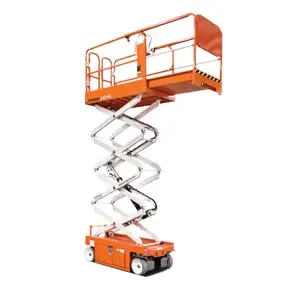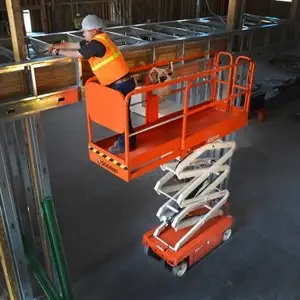 S1932E Electric Scissor Lift Rental

Our S3219E 19 foot electric scissor lift offers a 25 foot working height and packs big features in a compact size.
It is easily driven through a standard doorway and has a telescopic roll-out deck extension which maximizes platform space.  It has deep cycle batteries to maximize working hours.
Click Here for Scissor Lift Rental Rates and availability
A scissor lift MUST be used on a level, firm surface, such as a poured concrete floor.  It is not normally suitable for outdoor use unless it is on a poured concrete pad.  For outdoor use we recommend our boom lifts.
OSHA requires proper fall protection be used when using this lift which includes a fall harness and lanyard.
As of June, 2020 all operators and occupants of a boom lift must have OSHA/ANSI compliant training course. It is our obligation to make you aware of this and to make a course available to you. While we encourage you to take the course, whether you comply with the regulation or not is up to you.  If you would like to get the appropriate training, you may click here

Click Here for Scissor Lift Rental Rates and availability
Specifications
Max. working height: 25 ft
Max. platform height: 19 ft
Platform size (stowed): 28.25 in x 63.75 in
Platform size (extended): 28.25 in x 99.75 in
Deck extension length: 36 in
Overall length (with step): 70.4 in
Overall width: 32 in
Min. height (guardrails folded): 65 in
Stowed height: 83 in
Ground clearance (stowed): 2.63 in
Ground clearance (elevated): .75 in
Platform capacity (SWL): 550 lbs
Max. drive height: 19 ft
Max. wind speed: 28 mph
Max. drive speed (elevated): 0.3 mph
Max. drive speed (stowed): 2.0 mph
Raise / lower time: 20 / 36 seconds
Gradeability: 25%
Inside turning radius: 4 in
Outside turning radius: 64.25 in
Tires: 12 x 4 non-marking rubber
Controls: Proportional
Drive system: 2-wheel drive
Power source: 24V DC battery electric
Charger: 90 – 240V, 25 amp
Weight: 3,075 lbs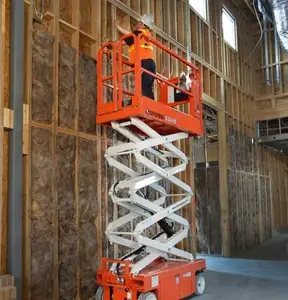 We are located in Millis, MA and offer scissor lift rental in Millis, Medway, Medfield, Franklin, Norfolk, Holliston, Hopkinton, Sherborn and the surrounding area