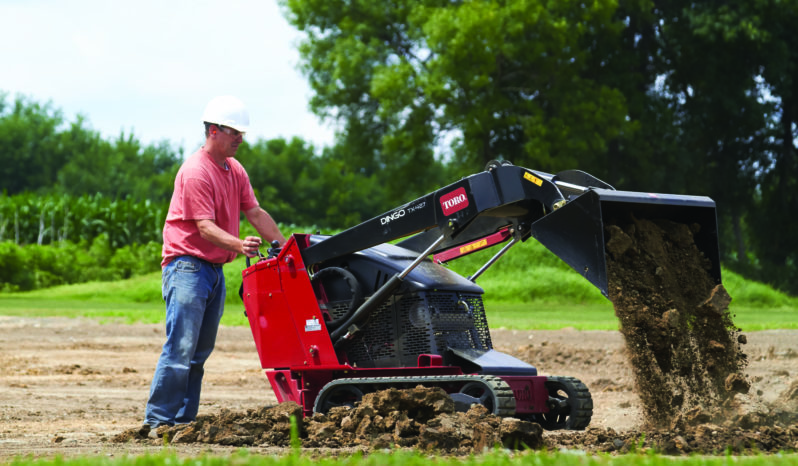 Our Dingo is a powerful mini skid steer, like a mini bobcat on tracks. It can haul dirt, stone and other materials, rip out your lawn, dig fence posts and a whole lot more!
Our Dingo Loader is made by Toro, is strong, reliable and powerful.  It will help you get your job done quickly, safely and affordably
Easy to Use
You're up and running in a flash with three easy-to-use controls.
1) The joystick loader control lets you curl, dump or float the bucket while simultaneously raising or lowering the loader arms – all with one hand.
2) With your other hand, you can grab the one-hand traction drive from any angle, for effortless control.
3) The third control, the auxiliary circuit control lever, which can be activated while operating the traction drive, powers the attachments instantly.
No Hoisting License Required
We use a specially adapted bucket which means you do NOT need a Massachusetts Hoisting License or Temporary Hoisting License
Specifications
Engine 23.3 HP Kubota
Width with bucket 42″
Height 46.1″ 
Hinge Pin Height 65.8″ 
Length with bucket 92″ 
Length without bucket 70.7″ 
Ground Speed 0-4.5 mph 
Ground Pressure 3.5 PSI
Ground Clearance 4.6″ 
Diesel Fuel Capacity 6 gallons
Hydraulic Reservoir Capacity 10.5 gallons 
Hydraulic Flow 13.8 gpm 
Operating Capacity 553 lbs. 
Weight 2,013 lbs
Here are the Dingo Attachments we offer: