We are experts at Window Screen repair and Door Screen Repair!

Experienced?
We may be a new business in Millis, but we have over 15 years of experience re-screening windows and rescreening doors and we know how to fix them correctly. We make window screen repair using fiberglass and pet screen materials. We proudly serve customers from Millis, Medway, Medfield, Franklin, Norfolk, Holliston, Ashland, Sherborn and the surrounding area.
Damaged Window Frame?
Does a bent or damaged window screen frame bother you? In addition to re-screening your window, we are able to repair most screen frames and can even make replacement window screens to fit most windows.
How Much is it going to Cost to Fix My Window Screen or Door Screen?
When you bring your screen repair project to us, we will give you a total for the work which will cover the parts and labor with the exception of parts which may need replacement but cannot be seen until the screen is taken apart. You can also call in with the window screen dimensions and we can give you an estimate over the phone.

Pet or Pest Damages?
Pets such as dogs and cats bring a lot of joy into our lives. Unfortunately, they also bring challenges, like the door screen or window screen damage when they climb, scratch or claw at them.  Are you tired of replacing your door and window screens due to pet damage?
The next time you need to repair or re-screen your pet damaged door screen or window screen, we have the perfect solution, Pet Screen.  Pet Screen is made from a vinyl coated polyester and is 8X stronger and more durable than traditional screening materials such as fiberglass It resists tears and punctures caused by dogs, cats, squirrels, raccoons and other animals. (it holds up to wear and tear caused by young children really well too!)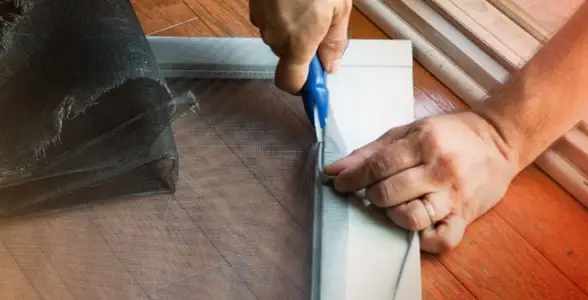 We Know How to Do Your Screen Repair Properly!