Skid Steer Rental & Track Loader Rental
Our Skid Steer Rental & Track loader Rental get the job done!
We have the Newest Rental Inventory in the area
We offer track loader rental and skid steer rental.  Our track loader rentals have enclosed cabs, heat and air conditioning as well as an AM/FM radio.
Tracked loaders are more powerful and more versatile than a wheeled loader (aka Bobcat rental).  They operate on a undercarriage equipped with tracks. As a result, they have a very low center of gravity, making them more stable and dependable.  They work exceptionally well in soil, sand, & gravel, making them ideal for construction, agriculture, landscaping and grounds maintenance.
We rent track loaders and skid steers near you! We located on Route 109 in Millis and are easy to get to – 15 minutes off of 495 (exit 18 or 19) or 95 (exit 31B), straight down Route 109
Specifications
Horsepower (gross) 68.3 HP.
Displacement (cu. in.) 159.6 (2615)
Diesel Capacity: 21.7 gal

Overall Length 136.4″
Overall Height 80″
Overall Width 68″/74″
Operating Weight lbs. (kg) 8035/8465
Rated Operating Capacity (ROC) 35% Tipping Load (lbs.): 2100
Tipping Load (lbs.) 6000
Bucket Breakout Force (lbf.) 4614
Lift Arm Breakout Force (lbf.) 4266
Lift Arm Path: Vertical
Track Width (standard/wide) 12.6/15″
Ground Contact Pressure (psi) 4.2
Traveling Speed: High (mph) 7.1
Traveling Speed: Low (mph) 4.1
Traction Force (lbs.) 8408
Ground Clearance (in.) 9″
Auxiliary Hydraulic Pressure (psi) 3185
Auxiliary Hydraulics Flow Rate (GPM) 17.4/27
Height to Hinge Pin 118.5″
Ground Pressure: 5.0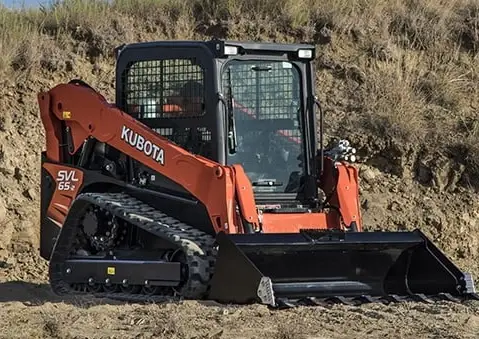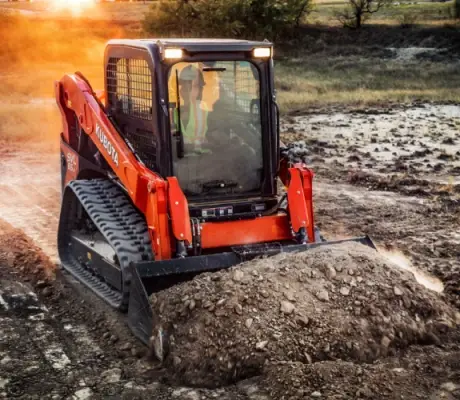 PLEASE NOTE:
Under Massachusetts Law a Hoisting Engineers License is required to operate this machine.
If you do not have one, we can issue you a Temporary Hoisting Permit. 
Please go to https://www.atleisurelicense.com/temp_permits and enter our Rental Facility ID Number which is 0203837
We are located in Millis, MA and offer skid steer rental and track loader rental in Millis, Medway, Medfield, Franklin, Norfolk, Holliston Hopkinton, Sherborn and the surrounding area