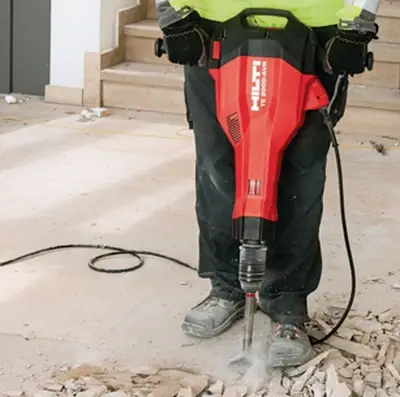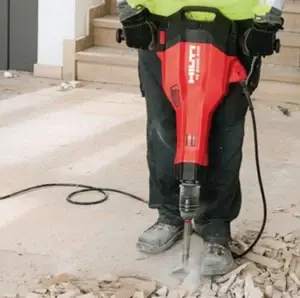 Our Electric Jackhammer Rental will help you get your job done
We have the Newest Rental Inventory in the area – so you know it'll be reliable
Our Hilti TE-2000 electric jackhammer rental is a small but powerful machine that punches weigh about it's weight class!  It's half the weight (32 lbs. versus 63 lbs.) and more powerful than a Bosch Brute electric jackhammer.  It's lighter weight makes it is easier to transport, maneuver and use.
While it might be a light weight, it packs a powerful punch.  Our electric jackhammer rental is ideal for medium- to heavy-duty demolition of concrete slabs and foundations up to 6 in. thick, as well as asphalt work
The Active Vibration Reduction (AVR) makes it easier on the operator since the machine take the abuse, not the operator.  It has the lowest noise level of an electric jack hammer rental in it's class and even it comes with a cart for easy transport
It's the most efficient, light weight breaker in its class with a 15 AMP motor that provides 1,800 BPM and 26 ft lbs of impact energy, weighing in at only 32 lbs.
It's better to have and not need rather than to need and not have. For that reason, our electric jackhammer rental goes out with two points and two chisels.   When you come back we will refund you for any points or chisels you have not used, however if you abuse what you do use, you will be buying it.
Click Here for Electric Jack hammer
rental prices and availability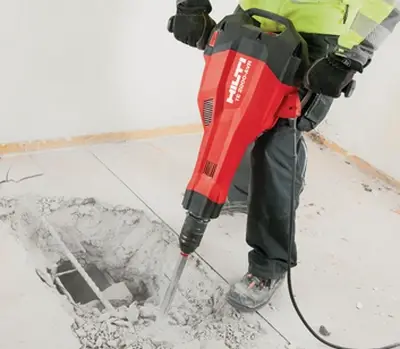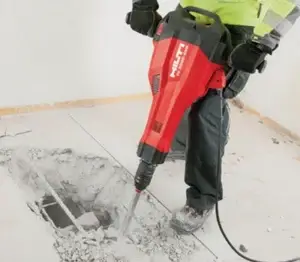 Specifications
Weight: 60 lb.
Single impact energy: 62.7 ft-lbs
Full hammering frequency" 858 impacts/min
Max. chiseling performance: 3660 in³/min
Dimensions: 32.3 x 23.1 x 8.6 in
Triaxial vibration for chiseling into concrete: 6.9 m/s² 1
A-weighted emission sound pressure level: 95 dB