Compact Mini Excavator - Digs up to 5'10" Deep
Our Micro Excavator Rental will help you get your work done fast

We have the Newest Rental Inventory in the area!

 Our Compact Mini  Excavator Rental is great for working in confined areas such as basements (with sufficient fresh air!).  If you need to fit through a doorway or fence gate, the tracks will retract to 30″, allowing you to get the job done. Our Compact Mini Excavator Rentals offer maneuverability, operational performance, operator comfort and reliability.  
The Kubota U10-5 highlights a 10' digging height and 5' 11" digging depth, an incredible offering inside its ultra-compact frame.  The open cab allows great operator visibility
Key Features:
    Low sound level
    Unique ultra compact size
    Comfortable operator area
    Improved versatility
    Superior weight and stability
    Strong traction force
Changeable Control Pattern
    Want CAT controls or maybe you prefer Deere Controls? The convenient Two-pattern Selection System (TPSS) allows you to change between operating patterns with a quick flip of the TPSS switch – without tools!
PLEASE NOTE:
This machine requires a 1/2 ton truck (150 or 1500 series) to tow it with one of our trailers. Delivery is available
PLEASE NOTE:
Under Massachusetts Law a Hoisting Engineers License is required to operate this machine. If you do not have one, you can get a Temporary Hoisting Permit. 
To get a Temporary Hoisting Permit please go to https://www.atleisurelicense.com/temp_permits and enter our Rental Facility ID Number which is 0203837
Compact Mini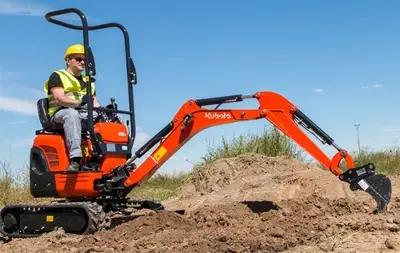 Compact Mini  Excavator Rental Specifications
     Operating Weight lbs.: 2646
     Overall Length: 9ft 9in 
     Overall Height: 7ft 5in 
     Overall Width: 3ft 3in / 2ft 6in 
     Crawler Length: 4ft 5in 
     Blade Width: 3ft 3in / 2ft 6in
     Blade Height: 7.9in 
     Min. Ground Clearance: 5.5in 
     Ground Contact Pressure (psi): 4.2
     Horsepower (gross): 10.3 
     Displacement (cu. in.): 43.8 
     Pump Capacity (GPM): 2.8 x 2 
     Auxiliary Hydraulics Flow Rate (GPM): 5.5
     Bucket Breakout Force (lbs.): 2337
     Arm Breakout Force (lbs.): 1214 
     Traveling Speed: High (mph): 2.5
     Traveling Speed: Low (mph): 1.2
     Hydraulic Oil Reservoir / System: 3.3 / 4.5 gal
     Fuel Reservoir: 3.2 gal